Small batch, limited edition art by resin artist, Stephanie Roberts.
Welcome to the party -- we're so glad you're here!
Feel free to browse through the shop to see all the dazzling examples of art work created by our resident resin artist, Stephanie Roberts.
All of the art seen here is created in batches of the same category and released as a collection, setting record speeds for 2 minute shop sell outs since summer 2019!
TO SHOP: check here on our homepage for updates on the next shop openings and what art you can expect to see -OR- follow along on Instagram for the latest updates as well @artbystephanieroberts. Thanks for coming and hope to see you at the next big release, friend!
modern day, original apothecary art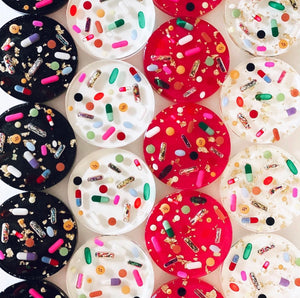 THE Coaster
Also known as the "Pill Petri", this is where it all began; the first original creation and all the frenzied excitement. True over-the-counter medications and capsules packed with glitter, confetti and candy sprinkles all perfectly embedded in clear epoxy resin - you won't be able to take your eyes off of these jewels!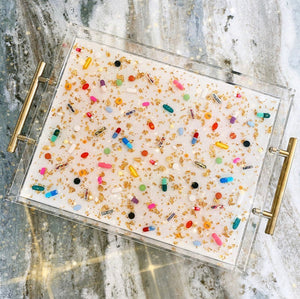 THE Serving Tray
Not long after the debut of the pill petri and the cult following that soon ensued, did the dream begin of incorporating the modern elements of the coasters into MORE. The high gloss serving tray (in 12x12" and 11x14" sizes) was soon born with sleek gold handles and maximum functionality, featuring the same mesmerizing qualities of pills and gold leaf floating in a sea of crystal clear resin.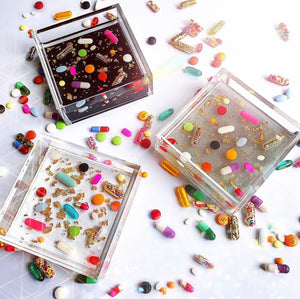 THE Catchall Tray
The newest member of the family! These sleek acrylic 4x4" catchall trays feature the same resin jewels as her big sisters, while adding OUT OF THIS WORLD versatility. She's a glamorous but safe landing place for your valuables on your desk, nightstand, bathroom vanity, and every nook beyond. She has QUICKLY become a new fan favorite and we couldn't be more in love!